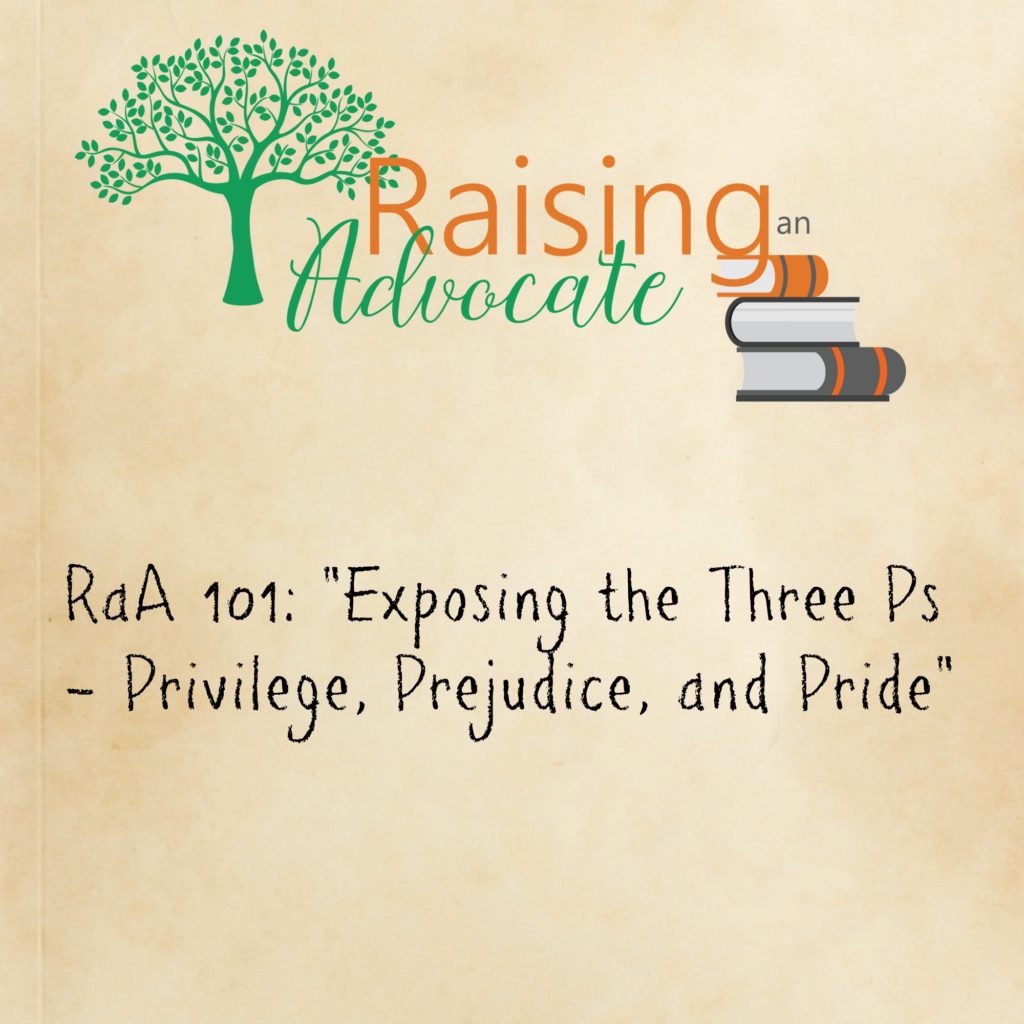 I'm excited to announce that the first Raising an Advocate course is now available for pre-order. A year and a half ago, I published a call to action post on Mamademics, entitled "Why White Moms Need To Care About Murdered Black Children." The post quickly went viral and before I knew it moms all over the country were asking me for advice about having the hard conversations with their children. Those conversations inspired me to create a blog series entitled, Raising an Advocate, and an idea for an online course was born. This is the first course in the series and I promise it won't take me a year and a half to create the rest.
RaA 101: Exposing the Three Ps – Privilege, Prejudice, and Pride is a three-week online course that will push you past your comfort zone while helping you confront what's holding you back from having the hard conversations around social justice issues. This course combines a traditional online classroom with weekly webinars that allow you to ask questions and participate in a discussion with your peers.  Need more information?
Who Should Take This Course? 
This course is ideal for parents, grandparents, teachers and/or anyone involved in the nurturing of young children, adolescents, and teenagers. I first used many of these theories while teaching on the collegiate level, but now incorporate them into my parenting of a preschooler.
What Do You Get?
Weekly course lessons complete with a brief reading list, quizzes, and writing prompts.
Small class size to allow for more one-on-one attention. The inaugural class is limited to 10 people, but in the future, they will vary from 10-15.
Weekly 45-minute webinars with your cohort and instructor. We'll work together to dissect that week's reading and concepts.
A printable workbook that includes the complete list of readings, plus suggested ones for the future.
Access to a private Facebook group that will serve as safe space to discuss the questions and concerns you're not supposed to say out loud.
Unlimited access to the course, so you can always refresh your memory.
When Does It Start? 
The course will start July 5, 2016 and all students will receive access at 12 noon EST.
Pre-registration is now open for a second session of this course that will start August 1, 2016.
How Much Does It Cost?
 The cost for this course is $149
Bonus Perks 
Inaugural members will receive 10% off all future courses.
July 5th Start Date CLOSED
August 1st Start Date Purchase SOLD OUT
September 5th Start Date Purchase SOLD OUT
October 3rd Start Date Purchase SOLD OUT
Current Offerings…